Help – Joining the Association
Accessing Member Resources
How can I create an account?
Click "Join or Renew" on the top navigation bar. It will take you to a page with these options:
If you have never created an account with the Cessna 120-140 Association (even on the old site), choose the first option "Join – New Members Click Here". This will take you to the sign up page — fill out your information and your account will be created.
How can I pay for a membership?
At the sign up page, you have 4 options. You can purchase 1 of the 3 memberships, or you can select "I do not want to purchase a membership at this moment." If you choose to not purchase a membership during sign up, you can always pay for one after creating an account.
The Association uses PayPal for all payments.
I do not have a PayPal account! How can I pay?
Good question. PayPal offers Guest Checkout. You can enter your credit card information even without a PayPal account. Refer to screenshots below.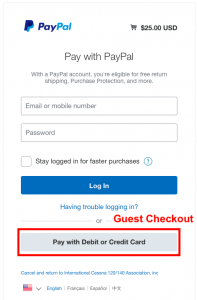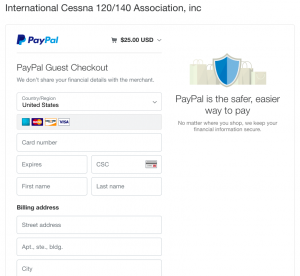 **Your information is always kept confidential and secure. The Association does not collect any card information.**